WE HOLD INTIMATE AND INCLUSIVE AERIAL YOGA CLASSES FOR ANY LEVELS LOCATED IN BAYSWATER  (WA)
 We all want to move and challenge ourselves while having fun. If you live in Bayswater, Maylands, Bassendeen or Mount Lawley, we are close, come and have fun in a class with us.
WE PROVIDE THE SPACE TO EXPLORE DIMENSIONS OF YOUR INNER WORLD TO CONNECT, PLAY, HEAL & FLOURISH
Whether you are a beginner or an experienced practitioner Sanctuary Aerial Yoga will support and nurture you along your journey.
CREATING A HARMONIOUS SPACE TO CULTIVATE HEALTH & HAPPINESS
A wellness immersion to inspire and promote meaningful change.
FOUNDER & AERIAL YOGA INSTRUCTOR
I'm always open to joining forces and creating something beautiful together, for collaborations.
Please Contact me.
SHARON
Sharon is an Aerial Yoga Instructor, Wellness Coach and Founder of Aerial Yoga Perth.
Sharon Krisanovski is your Aerial Yoga instructor and has been practicing Aerial Yoga and Aerial Acrobatics since 2014. She discovered Aerial Acrobatics in London after taking a break from design and architecture, and soon after that, she started practicing Aerial Yoga regularly in Melbourne at Body Flow Yoga. Sharon fell in love with the practice that helped heal her spinal injury, and soon realized she wanted to share the practice with the world and become a teacher.
She graduated as an Aerial Yoga Instructor from The Aerial Yoga Academy in December 2018 and furthered her qualification with The Empowered Center in Midland, graduating in June 2019. Sharon is always striving to gain more knowledge wherever she travels and has been teaching to group classes and privately for the past year.
As a young woman she has always been practicing a great variety of sports: from classical ice-skating to fencing, martial arts, and gymnastics, paddle-sports to swimming cycling and horse riding.
She is also a certified Wellness coach. Her method focuses on life balance and happiness, and her healing personal journey has always driven her to help and guide people to achieve their health and wellness goals.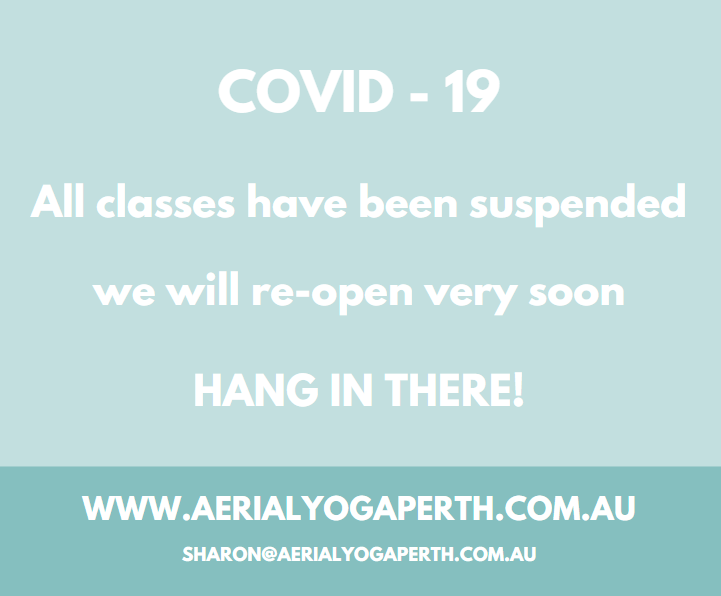 Sharon can help you beyond Aerial Yoga.
As a certified wellness coach, she will be happy to guide you towards your health and wellbeing goals.
Because I'm passionate about the healing power of Aerial Yoga and about helping people achieve their goals.
I believe that by freeing a dormant side of us through movement, we can bring back to our everyday life new abundance and happiness.
"Along the way, some of us have lost their inner child and the ability to just play and be.
I want to help you free it, and make it be more comfortable in your own skin"